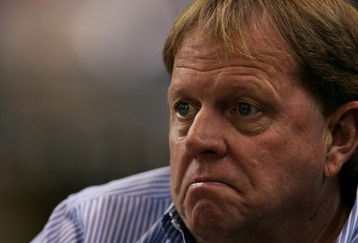 All recent implications seem to suggest Jim "I-can-make-a-pb&j-sandwich-with-the-wrong-ingredients" Hendry is in a bit of a rush in finding the newest emperor of Cubdom. Most, if not all, sources seem to agree that the 3 finalists for the Cub's managerial job have come down to Mike Quade, Ryne Sandberg, and Eric Wedge. Mike Quade has already shocked the North Side compiling a 23-12 record; seemingly proving his worth in his short tenure at the helm. Ryne Sandberg has managed the majority of the young guys this team will be utilizing in the near future. He's coached A, AA, and AAA ball, along with winning Pacific Coast League manager of the year last year. Also adding to his repertoire: 10 All-star selections, Hall of Famer, Cub legend, and familiarity with the organization unlike any other candidate. Eric Wedge seems like an outside shot, but he also apparently is one of the three (final?) candidates to have an interview with owner Tom Ricketts. A 2007 manager of the year winner, with out much else to add, makes it feel like a bad fit to the puzzle.
So now my question is this…Why not Joe Girardi? I wouldn't expect Joe to leave the Yankees, but the possibility is there. Hendry seems so quick to jump the gun on this decision, because he wants to have a manager in place by the start of the winter meetings in November. Well Jim, do you actually expect Girardi to openly state he's willing to come to the Cubs in the middle of the Yankee's playoff run?!?!? How about you sit back for a few, see where Girardi stands when the season is over, AND THEEENNNNN make your decision. If Quade, Sandberg and Wedge don't feel like waiting around to hear who the big winner is, than hell with em! They obviously didn't want the job bad enough. This makes me wonder if Hendry sometimes eats his chicken raw, because he doesn't want to wait for the grill to heat up.
Update-
According to Chicagobreakingsports.com...
"Former Cleveland Indians manager Eric Wedge will reportedly take the same post with the Seattle Mariners, according to multiple reports. The Seattle Times and SI.com are both reporting the move. Wedge sat out of baseball this season after managing the Indians for nearly seven seasons and compiling a 561-573 record with the team."
Well then. I guess that takes care of that. Mr. Wedge has no idea the pain, suffering, and anguish he just saved himself from.